Welcome to the Avanti Race Parts website.
Avanti Race Parts is a UK company setup to supply Ducati owners with the products they require, working perfectly in the most demanding conditions of the race track. While our product range caters to racers, we also supply to the trackday enthusiast as well as the road rider.
We are specialists in Ducati parts and accessories, with knowledge gained from over 30 years of Ducati ownership and 15 years of race experience, mainly racing Ducatis. We understand the needs of the racer and look to continuously improve our product line-up with feedback from our customers.
We source our products from all over the world to ensure that you get the best parts at the best prices.

We also keep some limited stock of Used Parts which you can also find in our Online Shop. We try our best to give accurate descriptions of all parts we have for sale, but if you need further information about anything in our shop, just Contact Us.
Our Race Paint package is ideal for anyone who wants their race fairing painted without the high cost of a road-going finish. We can paint your full fairing in your choice of one colour (optional black belly-pan) for as little as £100. We can repair and repaint broken fairing too! If you want a high-quality road-going finish then we can do anything from a mirror to a full body respray.
If you need any more information, or simply want some advice then you only need to Contact Us.

Latest News!

November 2023
Please note that we are currently experiencing email issues with sending to GMail addresses; our email is being blocked and we are not currently able to reply to any messages from gmail adresses. We are working on this and hope to have it fixed shortly
December 2021
Wishing all of our friends and customers around the world
a very happy holidays and best wishes for the new year!
May 2021
Welcome to our new webserver!
We have just move to a brand new webserver so we can work on updating the website.
Please bear with us as things change, but if you spot anything wrong you can let us know on the Contact Us page!
January 2021
PLEASE NOTE: due to the changes in the law after the end of the BREXIT transition period, we are currently unable to supply Accossato products, and many other items sourced from Europe. We have updated our shop to reflect this, and will update when we are able to.


July 2017
New ACU Approved Toe Guards for Swingarms!
Now available in the Online Shop.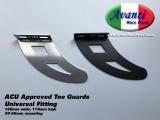 Sept 2016
New Chain Adjuster available for Single-Sided Swingarms!
Now available in the Online Shop.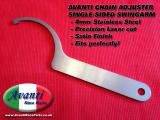 Sept 2016
Stock levels have been updated!
We also have a new version of an old product favourite arriving later this week.
October 2015
Thanks for sticking with us through some website troubles - we've finally managed to transfer our website to a new ISP and everything should be up and running again now!
August 2015
We have restocked our shelves with the popular Ducati Clutch Holding Tool and Ducati Cam Holding Tool from Thomas Performance Parts! Order yours now
January 2015
New for 2015 is our Ducati Key Copying Service! We can duplicate your existing key to provide a back-up, additional key or to replace a broken or bent key.
See the Key Copying Service page for more details.

August 2014
New for 2014 is our improved clutch pressure plate, designed by Avanti Race Parts,
made in the UK and so good it has our name engraved on it!
Now available in the Online Shop.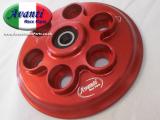 July 2014
Please note that we will be closed from Sat 12th July until Monday 21st July.
Online order will still be taken during this time but will not be dispatched until we reopen.
March 2014
New for March is the Ducati Exhaust Servo Eliminator module from Healtech!
Dump the exhaust valve and fix dashboard error lights with this plug-and-play module.
Now available in the Online Shop.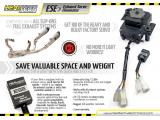 December 2013 - January 2014
Please note that due to the Christmas holidays we will be closed from Mon 23rd December through until Mon 6th January 2014. Orders will still be taken via the online shop and will be dispatched on Mon 6th Jan. Please also be aware of possible delays in receiving orders due to the increased seasonal post. Have a great Christmas and a Happy New Year!
August 2013
Please note that we will be closed on Friday 23rd August
through to Tuesday 27th August for the Bank Holiday weekend.
Orders will still be taken but not dispatched until Weds 28th August.
Many thanks!
March 2013
New for March is the replacement Ducati steering stem (yoke/triple tree) nut, machined from
billet aluminium and then anodised in black for that extra trick look! Now available in the Online Shop.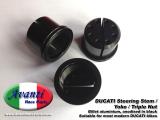 January 2013 - Happy New Year!
More options have been added to our ECU Reflashing service!

December Holidays
Please note that we will be closed from Fri 21st December
through until Thurs 3rd January for our holidays!
We would like to wish all our customers a Merry Christmas
and a Happy New Year!
November
New parts coming soon, including...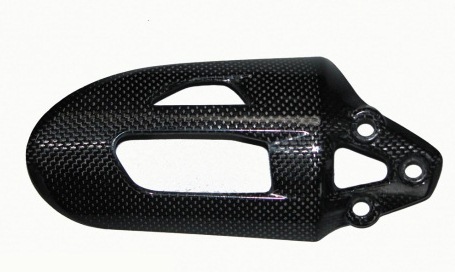 August and September
Busy busy busy, but we have new products (and some old favourites!) in the store.
New for July!
Our new Ducati Billet Clutch Slave Cylinders are now available!
Direct replacement for OEM part, these offer improved sealing and a 35% reduction in lever effort.
Available in four colours and includes replacement stainless bolts and push-rod adapter for pre-2000 models.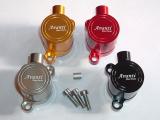 June Information
Please note that we will be out of the office from Friday 15th June as we will be attending WDW2012. Apologies for the inconvenience!
May Madness Update!
We have lots of popular items back in stock again - including the ever popular Billet Red Anodised Clutch Pressure Plate!
We have an additional "race" style sprocket cover now available, along with our new cam positioning tools for both
desmo 4V and TestaStretta engines. We also have the billet rear sprocket flange available in black for 916 line (including the 748, 916, 996 and 998), the "old" MultiStrada (620,1000,1100), the Hypermotard (796, 1100 and EVO variants) and also the 848!
Click the pics above for more info!
Avanti Race Parts Ducati Quick Release Sprocket Carriers
Made from 6061-T6 billet aluminium and anodised in black for
improved wear resistance. Includes stainless steel fittings.
.: Previous Updates :.
Avanti Race Parts DUCATI BILLET ADJUSTABLE BRAKE & CLUTCH LEVERS
CNC precision machined from 6061 T6 aluminium and anodised in black for improved wear resistance.
They offer a 6-position lever (span) adjustment and stainless steel hardware.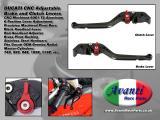 CRASH PROTECTION: FRONT FORK CRASH BUNGS
Suitable for Ducati forks with 25mm hollow axle, including 748, 916, 996, 998, 749, 999,
SuperSport, Monsters, MultiStrada, ST2, ST3, ST4, Hypermotard, SportClassic, etc!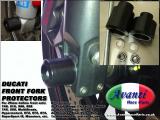 RECENTLY ARRIVED: Ducati "Rear-Set" Style Footpegs & Billet Dog-Leg Standard Gear Levers
Replacement for standard footpegs, but adjustable, and replacement standard gear levers.
Billet Race Sump Plugs for Deep-Sump / TestaStretta Engines
Suitable for 1198, 1098, 848, D16RR, MultiStrada 1200, Diavel, 999, 749.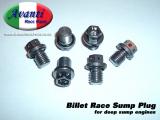 See them in the Service Items and Parts section of the Online Shop
Single-Sided Swingarm Adjusters and
Alternator Cover Puller Tools
Find them in the Workshop Tools section of the Online Shop
Just Arrived - Titanium Sprocket Nuts
Find them in the Online Shop
Carbon fibre clutch covers are available in three different flavours: Full, Vented and Race!
Find them in the Online Shop
New Stuff in the Online Shop
Official NW200 Team Gear - Clearance Sale!
We have some limited stock of Official NW200 Ducati 1098 Racing team gear, including Jackets, Hoodies, Fleeces, Polos, T-Shirts and Lanyards at very special prices! Once this goes, it's all gone, so get it quick on our Online Shop.
New Parts Now in Stock!
We now have new parts in stock, including: 848/1098/1198 billet rear brake levers (dog-leg design), more sprocket covers, dry clutch springs and caps sets (in a choice of colours!) and also some more to come, such as quick-release sprocket carriers! Keep checking back for more details...
Ducati Desmosedici Open Clutch Covers
We are now able to supply Ducati OEM clutch covers which have been milled to create an open clutch cover specifically for the awesome Desmosedici! All the strength and beauty of the original cover but in an open style.
Find them in the Online Shop.
MotoGP Team T-Shirts
Get your hands on some exclusive MotoGP Team T-Shirts in our Clothing & Accessories section, where you can show your support for Casey Stoner, Jorgé Lorenzo and 9-Times World Champion Valentino Rossi.
Accossato Parts Now Available

Accossato are official performance parts suppliers to Ducati Corse.
Made in Italy, these parts can improve both the performance and quality of your Ducati and they're now available to purchase from our Online Shop.
Samco Hose Kits Now Available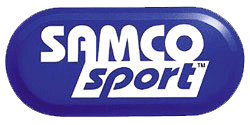 We are now selling Samco Hose Kits for all Ducati watercooled models. We can also supply individual parts including straight hoses, reducers, elbows, reducing elbows, t-pieces, alloy or carbon joiners, seal tape and hose clip kits. Take a look at the Samco Hose Kits section of the Online Shop for more details.
Billet Race Sump Plugs
Stock of pre-drilled billet race sump plugs has now arrived, so please make your orders now to avoid dissapointment! They can be found in the Service Items section of our Online Shop.
We've Got Nuts!
We now sell packs of rubber Well Nuts (also known as Rawl Nuts) in both M5 and M6 sizes. Ideal to replace those churned up well nuts on your bike, we sell them in packs of 8 for a fiver whereas Ducati charge £6 each! Get them in the online shop.
The cheaper way to replace or upgrade your Ducati ECU!
We are now able to provide an ECU diagnostic and repair service for all IAW5.9 ECUs, as used on most Ducatis since 2003 onwards, including 749, 999, 1098, 1198, 848, ST4S, Hypermotard, SuperSport, etc.
We can reset your ECU to an "unencoded" state, so you can replace clocks or use previously coded ECUs with your Ducati. We can also reflash any IAW5.9 to a new software from our extensive library of firmware!
New Stock Arriving!
We have new stock arriving all the time here at Avanti Race Parts, but if there's anything that you need that we do not stock, please Contact Us and let us know.
..::..