Ducati ECU Repairs & Updates
With the introduction of the Weber-Marelli 5.9M ECU from 2003 onwards, Ducati removed the ability for the owner to easily update the fuelling map simply by swapping a fuel chip. This means that to update the fuel map, you had to purchase a new ECU for your Ducati, at a whopping retail price from the dealer.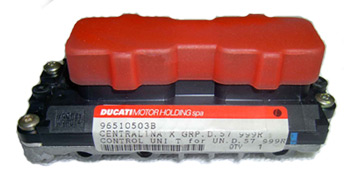 Ducati / Weber-Marelli 5.9M ECU
To complicate matters further, all 5.9M (and later 5.AM) ECUs are coded once they have been initialised on the motorcycle. The unique code is shared between the clockset and the ECU, so trying to defeat the immobiliser by swapping out the ECU cannot be done as the codes do not match. It also means that you can no longer borrow an ECU for fault finding as it simply won't start the bike! Replacing your ECU with a performance alternative or replacement part has been an expensive exercise ... until now!
ECU Reset Service
We can restore any 5.9M or 5.AM ECU to a factory default setting, which means that it is "uncoded" and can therefore be initialised for any machine and clockset. You can now:
Replace a damaged ECU with a second-hand ECU that is already coded
Replace a damaged clockset and reset your existing ECU to work with it
Purchase a second-hand performance upgrade ECU and ensure it works with your clockset
ECU Updates / Flashing
We can also reprogram (reflash) your existing ECU to alter the fuel map - no more replacing your existing ECU with an expensive performance upgrade!
Alternatively, we can reflash your ECU to any other model available from our range of ECU software. See our list of currently available ECU models for more information (only for compatible hardware versions).
Exhaust Valve, Lambda/Oxygen Sensor, Immobiliser and Custom Welcome Text!
Have you changed to an aftermarket exhaust setup and removed the butterfly valve in the exhaust and you're now getting engine fault lights? Or maybe removed the Lambda/Oxygen sensor and you're seeing a fault code? Want to remove the Immobiliser function to ditch the clocks for racing, or just fancy having your name appear on the LCD display when the bike is switched on? We can update your current ECU for any of these requirements!
ECU Diagnosis and Repairs / Exchange Service
We can test your existing ECU for a number of hardware faults, the most common being:
- one cylinder running (lost spark)
- dead ECU after incorrect jump starting (blown internal connections)
Where possible these faults can be fixed at a fraction of the cost of a replacement ECU.
We also provide an exchange service for damaged ECUs from our stock selection of tested ECUs.
Off-the-Shelf ECU Sales
If you just want a replacement ECU, we can provide an off-the-shelf refurbished ECU to the model and year that you require at a fraction of the price of buying new from the dealer.
More Information
We do not clone clocks, and we do not alter any service or mileage information stored within the ECU. We use our special software and hardware link to return the ECU to it's factory uncoded state for you to use on the machine of your choice.
Want to know which kind of ECU you have? Check our ECU Application Guide.
Want to know what we have available? Check our list of currently available ECU models.
Having trouble with your bike starting, the immobiliser or your keys? Check our ECU & Immobiliser Self-Diagnostic Test Guide.
Need more help? Please contact us for further information or to discuss your requirements.
ECU Reflash / Repair / Replacement Form
For details of charges, timescales, guarantee and how to send your ECU to us, please see the ECU Reflash/Repair form page.